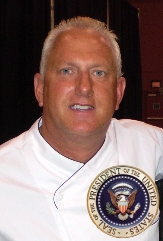 White House Guest Chef Guy Mitchell has endorsed our Original Recipe Slatherin' Sauce.
Chef Guy Mitchell said:
"I tried Slatherin' Sauce the other night and I must say it has a wonderful flavor….For the record I am giving your product a five star rating! Keep up the good work…"
Chef Mitchell is certainly a culinarian to respect. He is a graduate of the Culinary Institute of America. In addition  he has had the unique pleasure of working closely with the White House to host special engagements with the Presidents' chefs. He has also had the great pleasure of working with such famous chefs such as Emeril Lagasse, Morimoto, Bobby Flay, Paula Dean and Guy Fieri, all from the Food Network.