Grinning Cheek to Cheek Features Slatherin' Sauce
Blogger Rachel of Rachel's Reviews and Giveaways recently asked me if we'd be interested in sharing a gift pack of Slatherin' Sauce with her as a promotion that she could give away on her site. We were delighted to do so because we were sure she'd love the tangy sweet and spicy taste of Slatherin' Sauce!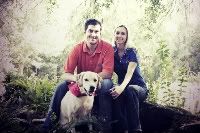 Rachel said
"…Slatherin' Sauce didn't disappoint. In fact, it genuinely wowed us and my picky husband was singing its praises and asking for seconds…

All of the ingredients on the list are pronounceable real foods, no chemicals or high fructose corn syrup! I just checked the ingredients on a major brand of barbecue sauce in my pantry, and the FIRST ingredient was high fructose syrup. Gross.

…we both loved the flavor and I value my family's health too much to be consuming large amounts of HFCS. I think this would really wow everyone at our next Gators tailgate (sorry Slatherin' Sauce, I hope you aren't Gamecocks fans!)."
Rachel, we're so delighted that you've experienced the delightful taste of Slatherin' Sauce and are telling your faithful readers about your enjoyment of it that we'll forgive you for lovin' the Gators as much as Slatherin' Sauce.
New ways to use Slatherin' Sauce
The only note we'd add to your fabulous review is a note to try Slatherin' Sauce's super recipes–especially the Spicy Slathered Dark Chocolate Truffles developed by cookbook author Holly Herrick, especially for us. And if you need more inspiration for a whole host of alternatives to your own "Lazy Chicken", our website has a full range of tempting ways to use Slatherin' Sauce.
I get great inspiration from the other women I've met as I've been developing my business. Chief among those are the intrepid women who regularly blog about cooking and feeding their families.
We've recently met Amy (Grinning Cheek to Cheek) and love her notes about cooking for her family. Amy's blog Grinning Cheek to Cheek is currently featuring a Give-Away of Slatherin' Sauce (until June 13, 2011).
Amy used Slatherin' Sauce on her Grilled Chicken. She reports, "It made for a fast and easy yet totally delicious meal!!"
As Amy says, "The way to a man's Heart is through his Stomach, So when you're looking for a great gift for your Dad, or just for around the house for a good meal – check out www.slatheriton.com. There you will find a list of retailers in your area who carry Slatherin' Sauce – as well as being able to order this delicious sauce for delivery to your doorstep!"
We couldn't agree more. Thanks Amy!
>